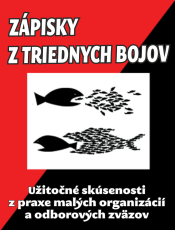 Podporili sme pracovníkov a pracovníčky Poľskej pošty
01.03.2018
Dnes napoludnie sme v rámci medzinárodného týždňa solidarity s pracovníkmi a pracovníčkami Poľskej pošty navštívili veľvyslanectvo Poľskej republiky v Bratislave. Keďže veľvyslanec sa na mieste nenachádzal, konzulovi sme objasnili dôvody našej návštevy a odovzdali list s požiadavkou (PDF), aby o proteste informoval príslušné orgány v Poľsku.
Rozhovor so zväzom Priama akcia v nemeckom vysielaní RTVS
26.02.2018
Ak ovládaš aspoň základy nemčiny, môžeš si vypočuť rozhovor pre Radio Slowakei International (vysielanie RTVS v nemeckom jazyku) z konca januára na tomto odkaze: RTVS.
Víťazstvo Pražskej solidárnej siete v boji o dlžnú mzdu
15.11.2017
Pripomíname ďalšie víťazstvo Pražskej solidárnej siete SOL!S v boji o dlžnú mzdu. K úspechu ešte z októbra gratulujeme a pripájame pôvodný článok aj s videom z návštevy agentúry Avedonna agency, ktorá mzdu dlhovala pracovníčke Denise.
Prezentácia zväzu PA na Ffud feste v Seredi
04.08.2017
Po Trenčíne odprezentujeme naše aktivity a konkrétne spory so šéfmi aj v Seredi. Konkrétne v sobotu 12. augusta o 15.00 na Ffud feste.
Prezentácia zväzu PA počas futbalového turnaja UAFA CUP v Trenčíne
21.06.2017
V sobotu 24. júna popoludní predstavíme v Trenčíne naše aktivity a konkrétne spory, ktoré sme viedli so šéfmi. Prezentácia sa uskutoční v rámci antirasistického futbalového turnaja UAFA CUP.
Anarchosyndikalistický Prvý máj 2017 vo svete
15.05.2017
Počas tohtoročného Prvého mája vyšli do ulíc v mnohých krajinách a mestách sveta sekcie Medzinárodnej asociácie pracujúcich (MAP) a ďalšie spriatelené organizácie. Prinášame reportáže z Austrálie, Brazílie, Británie, Bulharska, Francúzska, Indonézie, Kolumbie, Nemecka, Poľska, Portugalska, Ruska, Španielska, a Švédska.
Poľskí poštári prijali libertínsku formu organizácie svojho hnutia
10.05.2017
Po celoštátnom proteste vo Varšave sa v polovici apríla v Lodži konalo tretie stretnutie poštárov. Sformalizovala sa na ňom sieť poštárov, ktorá prijala libertínsku formu organizácie založenú na našich princípoch – priamej demokracii, zväzoch bez vodcov a delegátoch, ktorí majú určené mandáty a sú kedykoľvek odvolateľní.
SolFed Liverpool zvíťazil v spore s agentúrou domácej ošetrovateľskej starostlivosti
20.04.2017
V prvej polovici apríla sa skončil spor zväzu Solidarity Federation v Liverpoole s agentúrou Alpha Care. Bývalej pracovníčke, ktorá sa rozhodla odísť z agentúry pre zlé pracovné podmienky, dlhovala agentúra peniaze za odpracované hodiny, cestovné výdavky a dovolenku.
Ďalší protest poštárov v Poľsku
11.04.2017
Vyše 2000 pracovníkov a pracovníčok pôšt demonštrovalo v sobotu vo Varšave za zlepšenie pracovných podmienok, reogranizáciu práce a znovuzamestnanie dvoch kolegov, ktorí boli prepustení po verejnej kritike situácie na pošte. Mobilizácia pokračuje.
Otvorené stretnutie zväzu Priama akcia v marci 2017
21.03.2017
V stredu 29. 3. o 18:30 sa v Bratislave uskutoční otvorené stretnutie Priamej akcie. Chceš riešiť problém, ktorý máš na pracovisku (nevyplatená mzda, neplatná výpoveď...) alebo máš nápady na praktické aktivity, prípadne chceš pomôcť s činnosťou PA? Napíš nám na niektorý z našich kontaktov do soboty 25. marca večer, aby sme ti mohli spresniť miesto stretnutia, a v krátkosti opíš, čo by si chcel/a riešiť.
Prezentácia zväzu Priama akcia v Prahe
12.03.2017
V sobotu 18. marca od 15:00 sa bude v priestoroch autonómneho sociálneho centra Klinika v Prahe konať Prezentácia anarchosyndikalistických skupín. Zväz Priama akcia na nej predstaví svoje aktivity a dôvody, prečo sa im venujeme. Spomenieme aj niekoľko sporov, ktoré sme riešili v poslednom čase.
Novoročné stretnutie so zväzom Priama akcia v januári 2017
10.01.2017
V stredu 18. 1. o 18:30 sa v Bratislave uskutoční otvorené stretnutie Priamej akcie, na ktorom je vítaný každý, kto chce riešiť svoje problémy v práci, napríklad s nevyplatenou mzdou či neplatnou výpoveďou. Pokojne sa ozvi, ak máš nápady na praktické aktivity v svojom okolí, prípadne chceš pomôcť s činnosťou PA.
Zväz CNT v Albacete uspel v spore s družstvom Konsum
28.12.2016
O víťazstve v novembri informovala regionálna federácia zväzu CNT v Levante. Príčinou sporu bolo prenasledovanie dvoch žien za ich odborové aktivity. Akcie na ich podporu sa konali v mestách Albacete, Hellin, Madrigerase Sagunto, Tarragona a Barcelona. CNT vyzvala k bojkotu predajní Konsum, čoho výsledkom bolo, že firma sa vzdala a priznala neoprávnené prepustenie oboch žien.
Povedz NIE neplateniu za prácu v skúšobnej dobe
07.11.2016
Odpracovala som skúšobnú zmenu v krčme Ginger Dog v Brightone. Povedali mi, že potrvá "niekoľko" hodín. Po troch hodinách práce mi oznámili, že mi to ide veľmi dobre a prácu dostanem. Zo skúsenosti však viem, že šéfovia v ubytovacích a stravovacích službách to vravievajú, len aby ľudia pracovali zadarmo ešte dlhšie.
Zväz ASF (MAP Austrália) hlási víťazstvo v spore o neplatnú výpoveď
31.10.2016
Do sporu vyšiel proti podniku Northcote Social Club na predmestí Melbourne. Podnik patrí do siete klubov a hotelov Corner Group a počas sporu sa konali protesty aj pred ďalšími pobočkami v Richmonde a Newtowne. Vedenie nakoniec 18. októbra súhlasilo, že za protiprávne prepustenie vyplatí bývalému pracovníkovi Shawnovi odškodné, ktoré Shawn považuje za uspokojivé. "Toto víťazstvo by sme nedosiahli bez nátlaku na šéfov Corner Group pomocou priamych akcií," konštatuje zväz ASF.
Ďalšie>>