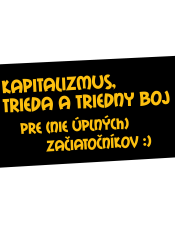 Fotoreport z klimatického štrajku v Bratislave (20. 9. 2019)
20.09.2019
K dnešnému protestu na Námestí slobody sme sa ako organizácia vyjadrili stanoviskom zverejneným na webe, ale aj osobnou účasťou na mieste v rámci "tmavozeleného" bloku, ktorý pochodoval za veľkým transparentom kolektívu Bod obratu "Zmeňme systém, nie klímu".
Zväz SolFed vybojoval spoločne s pracovníkom hotela dlžnú mzdu
08.05.2019
Bývalému pracovníkovi v kuchyni dlhoval hotel Harbour v Brightone 3 odpracované dni, zmluvnú odmenu (prepitné a bonus) a peniaze za nevyčerpanú dovolenku. Celková dlžná suma presahovala 1000 libier.
Kapela Železná kolóna vydáva nový album "Každý deň píšeme dejiny"
30.04.2019
Po 12 rokoch a opäť symbolicky na 1. mája vychádza nový album Železnej kolóny s názvom "Každý deň píšeme dejiny". Digitálnu verziu s piatimi songmi je možné vypočuť/stiahnuť si na bandcampe a youtube.
Výstava plagátov "Zyeme čokoľvek"
24.04.2019
Solidárny zväz Priama akcia a komunitná obývačka Bystro pozývajú 1. mája o 18:00 na komentovanú prehliadku výstavy provokatívnych PLAGÁTOV KOLEKTÍVU HOGWASH, v ktorých sa tvorcovia snažia nájsť rozdiely, ale hlavne spojitosti medzi súčasnou spoločnosťou a režimom pred rokom 1989.
Ďalšia neúspešná žaloba Poľskej pošty proti zväzu ZSP
23.04.2019
Okresný súd vo Varšave zamietol 9. apríla žalobu, ktorú podala Poľská pošta proti Jakubovi, členovi Zväzu poľských syndikalistov (ZSP). Ako sme písali v skoršom článku, bol to ďalší (neúspešný) pokus vedenia Poľskej pošty kriminalizovať aktivity zväzu ZSP, ktorých hlavným cieľom je podpora pri organizovaní sa pracovníkov a pracovníčok Poľskej pošty.
Štrajk žien 8. marca
01.03.2019
Prinášame vyhlásenie feministickej sekcie zväzu CNT-AIT v Granade.
Vianočné dovolenky sa možno skončili, ale tvoje práva platia celý rok!
07.02.2019
Lokálna skupina zväzu Solfed v Brightone (MAP Veľká Británia) dosiahla ďalšie víťazstvo v kampani proti zlým praktikám šéfov. Jedna z najznámejších krčiem v centre Brightonu nezaplatila pracovníkovi peniaze za nevyčerpanú dovolenku a neposkytla výplatné pásky zodpovedajúce odpracovaným hodinám.
Upratovačky zo zväzu ZSP si vybojovali dlžné mzdy
28.01.2019
Upratovačky z centra pre utečencov pri Varšave dosiahli významné víťazstvo. Zmluvy s firmou Sadar im bránili vziať si dovolenku, mali nižšiu náhradu príjmu počas práceneschopnosti, nižšie dôchodkové odvody a chýbali aj platby sociálneho poistenia. Vďaka sporu však došlo k splneniu všetkých ich požiadaviek.
Zväz ZSP uspel v spore o dlžnú mzdu s predajňou obuvi
09.01.2019
Problémy vo firme Schaffa Shoes sa týkajú neoprávneného prepúšťania, neskorého a neúplného vyplácania miezd a zlého správania šéfov. Na protest proti týmto praktikám sa 10. decembra vo Varšave uskutočnila akcia pred jednou z kamenných predajní s obuvou a doplnkami, ktorá patrí do siete Schaffa Shoes. Podobný protest sa konal aj začiatkom roka 2018 v inej predajni, a hoci vtedy sa situácia vyriešila v prospech pracovníčky, isté praktiky zjavne pretrvali.
Rýchle víťazstvo zväzu SolFed v spore o dlžnú mzdu
06.11.2018
Podnik Proud Cabaret zameraný na kabaret a burlesku vyplatil dlžných 1500 libier hneď po odovzdaní listu s požiadavkou. Vedenie neplnilo dohodu o výške hodinovej mzdy vo výške 8,50 libier a platilo len 7,58 libier (až do zavedenia novej minimálnej mzdy v apríli 2018, keď sa minimálka zvýšila na 7,83 libier). Do zmluvy tiež nezahrnulo zákonom požadovanú informáciu o mzdových tarifách. Pracovník na to opakovane upozorňoval, no nikam to neviedlo. Keď ho neustále odbíjanie unavilo, ozval sa SolFedu a po odovzdaní listu s požiadavkami dostal svoje peniaze.
Zväz SolFed v Manchestri zvíťazil v spore s realitkou Fortis
02.11.2018
Len pred pár dňami sme informovali o víťazstvách zväzu Solfed v Brightone v sporoch týkajúcich sa bývania. V septembri publikoval článok o úspechu aj Solfed v Manchesteri. Spor sa začal v máji a skončil v júli. Išlo o vyplatenie kompenzácie štyrom študentom, ktorí boli ubytovaní cez realitku Fortis. Dostali kompenzáciu spolu vo výške 832 libier.
Jeden piket a dlžná mzda na účte
20.05.2018
Zväz Solidarity Federation v Brightone sa v apríli ohlásil s ďalším ukončeným sporom. Istá reštaurácia dlhovala bývalej pracovníčke 1200 libier za odpracované hodiny a nevyčerpanú dovolenku. Stačila jedna protestná akcia, krátky e-mailový pingpong medzi SolFedom a zamestnávateľom a dlžná suma bola vyplatená.
Anarchosyndikalistický Prvý máj 2018
15.05.2018
Spracovali sme súhrn aktivít organizácií, ktoré sú súčasťou Medzinárodnej asociácie pracujúcich (MAP) alebo s ňou sympatizujú. V článku si môžeš prečítať o aktivitách v 18 krajinách sveta: Austrália, Bangladéš, Brazília, Británia, Bulharsko, Francúzsko, India, Indonézia, Kolumbia, Nemecko, Nórsko, Poľsko, Portugalsko, Rakúsko, Rusko, Španielsko, Švédsko a USA.
Krátka správa z vernisáže plagátov "Rodinná tradícia - Zomrieť prepracovaní a chudobní"
09.04.2018
V sobotu 24. marca sa v bardejovskej Bašte uskutočnila vernisáž výstavy kolektívu Hogwash s názvom Rodinná tradícia - Zomrieť prepracovaní a chudobní. Plagáty sa nachádzajú na prvom poschodí Bašty. V priestoroch kaviarne sú menšie plagáty z edície Abeceda anarchistického amatéra, vo vedľajšej veľkej miestnosti sú veľké plagáty. Kto nestihol vernisáž, má možnosť navštíviť Baštu v otváracích hodinách do 30. apríla, kedy sa výstava skončí (udalosť na FB).
Podporili sme pracovníkov a pracovníčky Poľskej pošty
01.03.2018
Dnes napoludnie sme v rámci medzinárodného týždňa solidarity s pracovníkmi a pracovníčkami Poľskej pošty navštívili veľvyslanectvo Poľskej republiky v Bratislave. Keďže veľvyslanec sa na mieste nenachádzal, konzulovi sme objasnili dôvody našej návštevy a odovzdali list s požiadavkou (PDF), aby o proteste informoval príslušné orgány v Poľsku.
Ďalšie>>