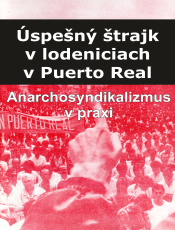 Otvorené stretnutie so zväzom Priama akcia v januári
04.01.2020
V otvorených stretnutiach pokračujeme aj v novom roku. Jedno už máme naplánované na deň volieb vo februári, no stretneme sa aj v januári. Naposledy (v novembri) boli výsledkom stretnutia tri aktivity (článok o štrajku pracujúcich proti klimatickej zmene, účasť na klimatickom štrajku a solidarita s protestmi v Čile). Dúfame, že praktický presah budú mať aj ďalšie stretnutia. Vidíme sa v sobotu 18. januára o 16:00 v komunitnej obývačke Bystro. Viac o stretnutiach sa dozvieš nižšie.
Zväz CNT-Tarragona hlási úspech po desiatich mesiacoch v spore
21.12.2019
Po desiatich mesiacoch sa 13. decembra dohodou skončil spor s predajňou tabaku Estanco Nº 2 de El Vendrell. K dohode došlo bez súdneho sporu a zapojenia právnikov. Rozhodli priame akcie.
Nálepky (Ne)voliť nestačí sú tu!
22.11.2019
Chceš podporiť túto myšlienku vo svojom regióne? Ozvi sa, pošleme!
Budú k dispozícii aj na otvorenom stretnutí v Bystre v BA už túto sobotu od 16:00. Viac info: nájdeš tu.
Otvorené stretnutie so zväzom Priama akcia v novembri
09.11.2019
Po hodnotnom prvom stretnutí minulý mesiac bude v novembri ďalšie. Pokračujeme v našej snahe o diskusie a spoločné aktivity ľudí, ktorým je blízky triedny prístup. Diskusie vychádzajú z potrieb a záujmov ľudí na stretnutiach a zámer je, aby mali praktický presah. Vidíme sa v sobotu 23. novembra o 16:00 v komunitnej obývačke Bystro. Viac o stretnutiach sa dozvieš nižšie.
Rozšírme myšlienku "(Ne)voliť nestačí" do regiónov!
28.10.2019
V rámci príprav na aktivity, ktorými chceme rozšíriť myšlienku "(Ne)voliť nestačí", by sme radi znova zdôraznili, že sa chceme vyhnúť naťahovaniu sa o to, či voliť alebo nevoliť. Nájdu sa hlasy, ktoré tvrdia, že treba voliť napríklad preto, aby sa do parlamentu nedostali neofašistické tendencie. Ide o veľmi dobrý príklad, na ktorom sa pokúsime vysvetliť pointu kampane. Viac informácií o plánovanej kampani, do ktorej sa môžeš zapojiť, nájdeš tu.
(Ľavicová) žurnalistika – skúsenosť s redakciou blogu Pole
22.10.2019
Seriózna žurnalistika by mala byť bez ohľadu na politickú orientáciu korektná. Očakáva sa, že človek, ktorý chce o niečom písať, si tému nielen vopred naštuduje, ale bude tiež vnímavo pristupovať k poznámkam "respondentov". Platí to pre klasické články aj pre rozhovory. Teda malo by. Naša skúsenosť s redakciou blogu Pole bola iná.
Fotoreport z klimatického štrajku v Bratislave (20. 9. 2019)
20.09.2019
K dnešnému protestu na Námestí slobody sme sa ako organizácia vyjadrili stanoviskom zverejneným na webe, ale aj osobnou účasťou na mieste v rámci "tmavozeleného" bloku, ktorý pochodoval za veľkým transparentom kolektívu Bod obratu "Zmeňme systém, nie klímu".
Zväz SolFed vybojoval spoločne s pracovníkom hotela dlžnú mzdu
08.05.2019
Bývalému pracovníkovi v kuchyni dlhoval hotel Harbour v Brightone 3 odpracované dni, zmluvnú odmenu (prepitné a bonus) a peniaze za nevyčerpanú dovolenku. Celková dlžná suma presahovala 1000 libier.
Kapela Železná kolóna vydáva nový album "Každý deň píšeme dejiny"
30.04.2019
Po 12 rokoch a opäť symbolicky na 1. mája vychádza nový album Železnej kolóny s názvom "Každý deň píšeme dejiny". Digitálnu verziu s piatimi songmi je možné vypočuť/stiahnuť si na bandcampe a youtube.
Výstava plagátov "Zyeme čokoľvek"
24.04.2019
Solidárny zväz Priama akcia a komunitná obývačka Bystro pozývajú 1. mája o 18:00 na komentovanú prehliadku výstavy provokatívnych PLAGÁTOV KOLEKTÍVU HOGWASH, v ktorých sa tvorcovia snažia nájsť rozdiely, ale hlavne spojitosti medzi súčasnou spoločnosťou a režimom pred rokom 1989.
Ďalšia neúspešná žaloba Poľskej pošty proti zväzu ZSP
23.04.2019
Okresný súd vo Varšave zamietol 9. apríla žalobu, ktorú podala Poľská pošta proti Jakubovi, členovi Zväzu poľských syndikalistov (ZSP). Ako sme písali v skoršom článku, bol to ďalší (neúspešný) pokus vedenia Poľskej pošty kriminalizovať aktivity zväzu ZSP, ktorých hlavným cieľom je podpora pri organizovaní sa pracovníkov a pracovníčok Poľskej pošty.
Štrajk žien 8. marca
01.03.2019
Prinášame vyhlásenie feministickej sekcie zväzu CNT-AIT v Granade.
Vianočné dovolenky sa možno skončili, ale tvoje práva platia celý rok!
07.02.2019
Lokálna skupina zväzu Solfed v Brightone (MAP Veľká Británia) dosiahla ďalšie víťazstvo v kampani proti zlým praktikám šéfov. Jedna z najznámejších krčiem v centre Brightonu nezaplatila pracovníkovi peniaze za nevyčerpanú dovolenku a neposkytla výplatné pásky zodpovedajúce odpracovaným hodinám.
Upratovačky zo zväzu ZSP si vybojovali dlžné mzdy
28.01.2019
Upratovačky z centra pre utečencov pri Varšave dosiahli významné víťazstvo. Zmluvy s firmou Sadar im bránili vziať si dovolenku, mali nižšiu náhradu príjmu počas práceneschopnosti, nižšie dôchodkové odvody a chýbali aj platby sociálneho poistenia. Vďaka sporu však došlo k splneniu všetkých ich požiadaviek.
Zväz ZSP uspel v spore o dlžnú mzdu s predajňou obuvi
09.01.2019
Problémy vo firme Schaffa Shoes sa týkajú neoprávneného prepúšťania, neskorého a neúplného vyplácania miezd a zlého správania šéfov. Na protest proti týmto praktikám sa 10. decembra vo Varšave uskutočnila akcia pred jednou z kamenných predajní s obuvou a doplnkami, ktorá patrí do siete Schaffa Shoes. Podobný protest sa konal aj začiatkom roka 2018 v inej predajni, a hoci vtedy sa situácia vyriešila v prospech pracovníčky, isté praktiky zjavne pretrvali.
Ďalšie>>